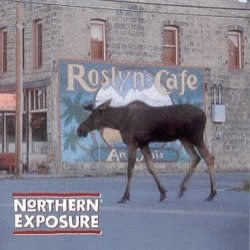 About
Introduction & Links
About fanlistings
About the site
Northern Exposure was an American TV series that ran for six seasons and concerned the adventures of a doctor from New York who ended up practicing medicine in a surreal Alaskan village.
For the best introduction to the world of Northern Exposure, head to Moosechick's Northern Exposure Archives, which has the alt.tv.northern-exp FAQ, archived articles, awards and nominations, biographies, DVD information, an episode guide, links to fan gatherings and filming sites, scripts, links and more!
Northern Exposure fans are pampered at Kimiye's site, which has a nifty FAQ and episode guide. IMDB's page for the show and Wikipedia's entry have more details, too.
If you haven't seen all the episodes, try Duvelle's episode transcripts.
A fanlisting is a web clique that lists fans of a particular subject. Some fanlistings are simple listings but others are part of a much bigger site. There are more than 50,000 fanlistings in existence and more are being built all the time. For more information on the whole fanlisting phenomenon, visit the Fanlistings Network.
This fanlisting was opened by Tehomet. All rights reserved. This site is designed to be web standards compliant, viewable with any browser, and is valid XHTML 1.1 and CSS. If you have any questions or comments, feel free to drop me a line. To see what other projects I am interested in, go to my domain. Thank you for visiting.